I'd done some experiments. 
google spreadsheets: spreadsheets/d/19Arc7ogKlfMlFSrngRpn4TbHuT0lGJ_GA5jwpmGpYRE
damage formula = (Effective ATT * BAL + Additional damage multiplier * Additional damage * BAL) * skill multiplier
Effective ATT: A function of ATT, DEF and ALR. (ATT-DEF) is capped at 10,000 if there is no ALR.
BAL: (balance/100 ~ 1.00) with step 0.005
Additional damage multiplier: vary by ATT, DEF and ALR. When ATT is over ATT cap and no ALR, this value ~ 6.25.
Effective ATT
:
When there's no additional damage, the precise Effective ATT can obtain by raw_damage_calculator because the possible value of damage is limited.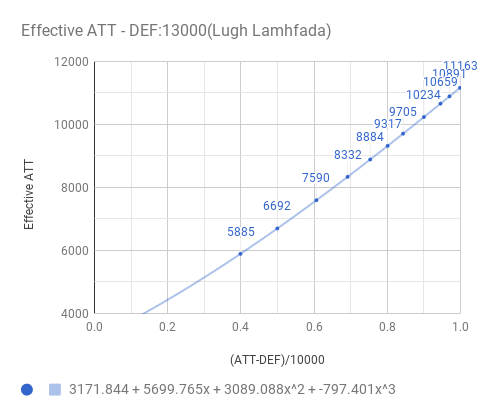 3rd order polynomial can fit the data quite nicely with error < 0.01%.
The formula by Ainama in 2013 can fit too with error < 3%.
There's a newer formula in 2015, but I don't fully understand...
Additional damage multiplier:
The effect of additional damage can be obtain by subtracting effective ATT from raw ATT. Sadly, the raw ATT is no longer obtain by raw_damage_calculator. My guess is that there's a separated balance roll in additional damage part, so that the damage value is spread. So I have to use more data to get a more reliable value.   
The multiplier is quite linear to (ATT-DEF) when (ATT-DEF)>3000.
The statement "Effectiveness of additional DMG will vary by your ATTand monster's DEF" seems correct.
Attack Limit Release
:
This is the part that I'm not sure about. The data point is few and error is larger compare to the above 2 experiments. But a least it shows that ALR affects Additional damage multiplier as well.